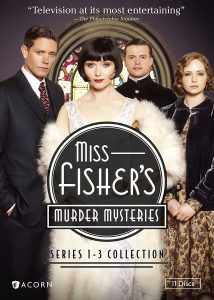 Miss Fisher's Murder Mysteries
Format: DVD, Digital TV Show
Who it's for: Adults
Set in glittering 1920s Australia, Miss Fisher's Murder Mysteries stars Essie Davis as Phryne Fisher—a strong, smart, and sexy woman who is decades ahead of her time. Often accompanied by her timid and soft-spoken companion Dot, Phryne solves a different mystery in each episode. This predilection for sleuthing frequently puts her in the path of Detective Inspector Jack Robinson, who is both frustrated by and attracted to Miss Fisher and her endless interference. With only three seasons and a recently released movie finale, this series makes for the perfect binge watch. As an added bonus, Phryne wears some of the most eye-catchingly gorgeous costumes seen on the small screen!
Find the first season in the catalog or dive in with the complete collection.
Also on hoopla digital.