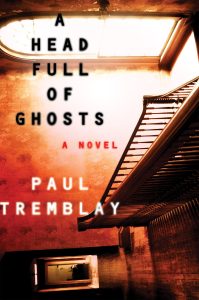 A Head Full of Ghosts by Paul Tremblay
Format:  Book
Who it's For: Teens and adults
The lives of the Barretts, an ordinary family, are torn apart when their fourteen-year-old Marjorie shows signs of acute schizophrenia. To her parents' misery, the doctors cannot stop Marjorie's descent into madness. Their stable home soon devolves into a house of horrors. The family grudgingly turns to a Catholic priest for assistance. Father Wanderly recommends an exorcism; he believes the helpless Marjorie is the target of demonic possession. He also contacts a production company that is keen to document the Barretts' troubles. With financial troubles approaching, the family agrees to be filmed, and thus become stars of The Possession, a successful reality television show.  
Fifteen years later, Marjorie's younger sister, Merry, agrees to be interviewed. As she reminiscences about the events that occurred when she was just eight years old, secrets and painful memories emerge that contradict what they portrayed on the reality show. This book keeps you guessing throughout, making you question what really happened. 
Find A Head Full of Ghosts in the Catalog!