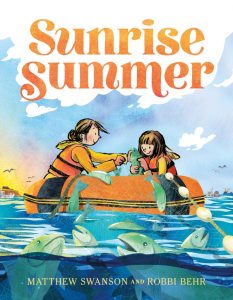 Sunrise Summer by Mathew Swanson and Robbi Behr
Format: Picture Book
Who it's for: Kids
During the summer a young girl and her family travel four thousand miles across the country to Egegik Alaska.
In Egegik, where their cabin is, she gets to join the family salmon fishing crew! If you're old enough to be on the crew, like she is, for the first time. There are many things to do while waiting for the salmon to arrive. Dragging six-foot anchor poles into the sand, and endless ropes through knee-deep mud and fetching water from the spring. Plus lots of chores around the cabin.  Keeping busy is easy.  But they are constantly keeping an eye out, waiting for the salmon to come!
Only 106 people live in Egegik during the winter when the fish are out to sea. But in summer the streets are full of people that catch fish and ship them somewhere else.
When the salmon arrive, they start early with the tide and fish at 4:00 a.m. A set-net, fishing from the shore, pulley system is how they catch the fish.
This story is based on a real life family adventure. The dad Mathew wrote this story and the mom Robbi in the story drew the pictures. You will learn lots of salmon and Alaska facts in this book where the sun shines at midnight!