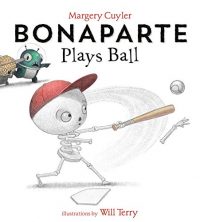 Bonaparte Plays Ball by Margery Cuyler, illustrations by Will Terry
Format: Book
Who Its For: Kids
Aliens! Monsters! Skeletons! And …baseball??! Yes, you get all this and more in Bonaparte Plays Ball. It's the Weird series and vying for the championship are the Little Monsters and the Mighty Aliens. Bonaparte, a determined little skeleton with an unfortunate habit of quite literally falling apart, is anxiously watching the game begin. The Aliens score a 3 run homer and pile on the insults, and he sees his teammates wilt under the onslaught. The Monsters are tagged out, struck out, and worn out; now it's 5-0 Aliens! Can Coach Roach's pep talk turn this team around? Can Bonaparte deliver for his team without going to pieces?
Margery Cuyler has hit a home run with this book, and fans of all things monster, alien or baseball are sure to agree. I think you'll enjoy Will Terry's creative illustrations too (looking at you aliens!).