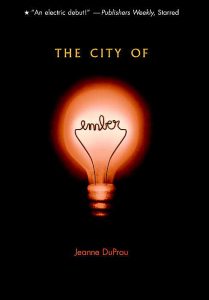 The City of Ember by Jeanne DuPrau
Format:  Book
Who it's for:  Kids and Teens
Ember is a city in everlasting darkness and is only lit by its progressively unpredictable electric system.  Other systems are falling apart as well, and stores of food and necessities that have lasted hundreds of years are dwindling.  The city was only meant to last 220 years, and now it has been 241.  But the messages the "Builders" left have been misplaced and forgotten.
Lina Mayfleet finds the messages, but not before her little sister chewed them to shreds. Now she and her pal Doon Harrow must decipher the few disjointed messages before the city falls to pieces.  Their determination leads them to discover long-overlooked mysteries about the creation and purpose of Ember, and what the "Builders" envisioned.  They want to spread their findings with the people of Ember — but only if the shady mayor and his guards don't stop them first.