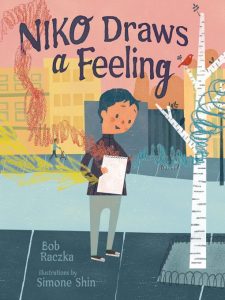 Niko Draws a Feeling by Bob Raczka, illustrated by Simone Shin
Who it's for: Kids
Format: eBook
Niko carries his paper and colored pencils everywhere he goes, in case he is inspired to make a picture. He loves to draw, but Niko doesn't draw the things he sees. Instead, he draws the way they make him feel. His parents, teacher, and friends don't seem to understand his pictures. When Niko draws the way the sun feels warm on his face, they can't understand why they don't see the sun.
Niko draws a picture of himself and how he feels, but he doesn't share it with anyone. Until one day, a new family with a girl Niko's age moves in next door. Has Niko finally found someone who understands?
Niko Draws a Feeling shows children that art can be representative. It doesn't always reflect actual things we can see. Sometimes it reflects how the artist feels. And as viewers of art, we all experience it differently as well. The illustrations in the book encourage children to think about what they see when they look at Niko's pictures.
This title is part of OverDrive's Always Available collection. The eBook is available with no wait on OverDrive/Libby for everyone with a library card!