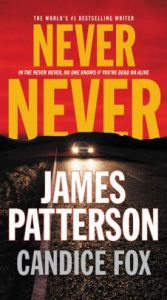 Never Never by James Patterson and Candice Fox
Who it's for: Adults
Format: eBook, digital audiobook
Detective Harriet Blue never would have imagined that her brother would be arrested for murder.  She never would have anticipated the media onslaught.  And she never would have pictured herself utilizing her survival skills in the middle of the desolate Australian Outback, the Never Never.
Harriet Blue, better known as "Harry," was reassigned temporarily.  Pop, her police chief, wanted her away from the investigation of her brother Sam.  As much as she wanted to clear Sam, Harry knew that her involvement would taint the process.
Soon Harriet was traveling down a dusty road towards a mining camp in the Never Never.   Seated next to her was a complete stranger, her temporary partner, Edward Whittacker.  "Call me Edward," he said.  "Okay, Whitt." she replied.  Harriet and Witt soon found out that more than one employee were missing from the Bandya Mine.  It seemed more than coincidence.  Had they wandered into the desert?  Did the Bilbies, local prostitutes, know more than they were telling? Were Richie and his gang dealing more than drugs?  Had the nomadic eco protesters elevated their opposition to murder?
In spite of the coarse lifestyle of the miners, I found myself drawn to Harriet Blue.  Tough and private from an unstable upbringing with her brother in the foster care system, Harry had honed her self-defense and detecting skills.  She was rough around the edges yet intelligent and a bit vulnerable inside.  I want to read more about Harry and see how her brother's story unfolds.  I am also intrigued by the Australian setting.  And this book is the first book in a series!