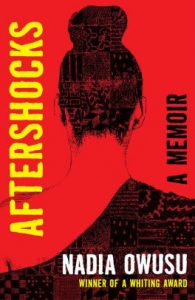 Aftershocks: A Memoir by Nadia Owusu
Format: Book
Who it's for: Adults
Nadia Owusu has such a way with words you may find yourself needing to set this book down to savor a phrase, or call up a friend to read passages aloud to them, needing the poetry of her prose to be spoken to the world. I know I did.
Aftershocks is about Owusu's experience growing up between worlds, the child of an Armenian-American mother (who abandoned her as a child), a Ghanaian father who worked for the UN, and a stepmother she could never get along with  – or live without. Owusu blends stories of her childhood spent traveling the globe with her father and the ways those experiences shaped her with clear and enlightening lessons on the history and politics of the countries her life overlapped with. Threaded throughout the book is the ongoing tremors of trauma and how it has shaped her past, present, and future.