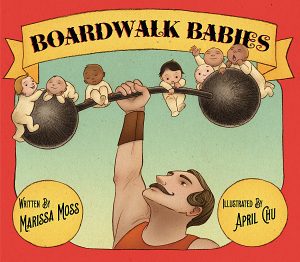 Boardwalk Babies, Written by Marissa Moss, illustrated by April Chu
Format: Book
Who its For: Kids
In years past, fairs had unusual sideshows to see. Bearded ladies, fire eaters, 3 legged men were common. But tiny BABIES??
Long ago hospitals thought premature babies, born early and too small, weren't worth caring for. Then Dr. Budin in Paris invented an incubator to keep babies warm and help them grow. The hospitals were still not interested; how could he show them that "miracle machines" could save babies' lives? He sent a young doctor, Martin Couney, to show the incubators at a large fair, but no one cared about empty boxes. Martin needed actual babies to show what the incubators could do. He begged a local hospital to let him care for some of their babies. The idea of putting infants in a display sounded wrong, but since the hospital couldn't help them anyway, they agreed to let Martin and his nurses care for six tiny babies. He took them to the fair, placed them in the incubators, and opened his "exhibit". It was a huge success! Crowds lined up to see the babies, watching them grow week after week. Best of all, every single one survived! Martin took his incubators to fairs all around the world, and in 1903 finally stopped at Coney Island Amusement Park in New York where he continued his "mini-hospital" exhibition. Preemies of every race, nationality and religion had excellent care around the clock from skilled nurses and doctors. Ticket sales covered every cost- families didn't pay a penny!  For 40 years the "Baby Incubator" exhibit continued to save babies (even Martin's own daughter Hildegard) until 1943, when hospitals finally began using incubators regularly.
Martin Couney's dedication and love saved approximately 6500 children and encouraged hospitals to use incubators to save millions more! Your history and biography-minded littles (and their grownups!) will enjoy this unusual, true story of an innovative man who did everything he could to save premature babies.
Find Boardwalk Babies in the catalog