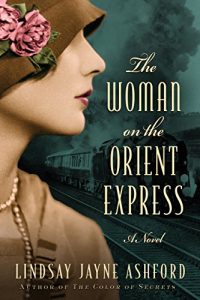 The Woman on the Orient Express by Lyndsay Jayne Ashford
Format: Book
Who's It For: Adults
Agatha Christie didn't want to be around for her husband's wedding.  Make that her ex-husband's second wedding.  So, under the alias of "Mary Miller," Agatha boarded the Orient Express bound for Baghdad.  On the train, she shared a compartment with beautiful yet controlling Katharine Keeling.  Agatha also encountered archaeologist Max Mallowan.  Max mysteriously requested that Agatha not disclose his presence to Katharine.  Agatha befriended Nancy Nelson on board too.   Agatha, realizing that Nancy was pregnant and alone, hired Nancy to be her secretary during their time in Mesopotamia.  While grieving the end of her marriage, Agatha drew closer to Katharine and Nancy.  And she explored exotic Baghdad in the delightful company of Max. 
The Woman on the Orient Express is a wonderful escape-read.  While the protagonist Agatha is taking a break from her troubles in England, the reader travels through her eyes to a far-flung locale.  While the story is not a mystery per se, it is suspenseful.  Moreover, the author interwove fact with fiction.  Archie Christie did divorce his wife for another woman.  Agatha Christie truly mourned the end of her marriage.  Katharine Keeling was based on the historical person of Katharine Woolley, nurse and archaeologist.  In fact, Agatha Christie did travel on the Orient Express and tour the archaeological dig in Ur with Mr. and Mrs. Woolley.  Indeed, at the dig she met and later married archaeologist Max Mallowan.

If you're as big of a fan of Agatha Christie's mysteries as I am, this book is for you.