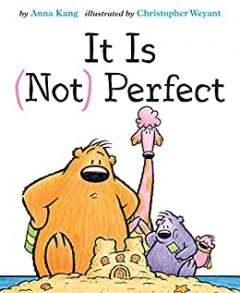 It is (Not) Perfect by Anna Kang, illustrated by Christopher Weygand
Format: Book
Who It's for: Kids

Another wonderful adventure from the husband-and-wife team behind You Are (Not) Small, I Am (Not) Scared and others! On a sunny day at the beach, two friends build a little sand castle. It's just right, except…wait, it needs flags. And towers. There, now it's perfect! Or is it? As others stop by offering their suggestions for sandcastle-perfection, the friends wonder if their creation is as perfect as they thought. So they make change after change, until the castle is massive, beautiful – and completely different than it was! But sand castles are never permanent, the sea always comes in, and at the end of the day, the friends find a new "perfection" that is theirs alone.
A sweet story of perfection and perspective by the talented Anna Kang and Christopher Weyant.