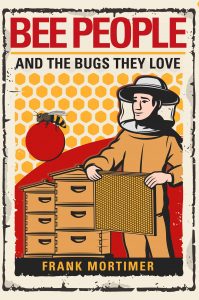 Bee People and the Bugs They Love by Frank Mortimer
Format: Book
Who it's for: Adults
Did you know that honeybees can count to four? Or that the forager bees dance in the hive to let others know where to find the best flower patches? These and other fascinating bee tidbits are interspersed with Frank Mortimer's personal journey to becoming a master beekeeper in Bee People and the Bugs They Love. 
Not intended as a how-to of beekeeping, this is a fun, quick read that begins with Mortimer's foray into beekeeping in northeastern New Jersey and follows him through mistakes (pulling a tree down on his own hive), successes (hives over seven feet tall with 340 pounds of honey), and interactions with other beekeepers (like Scooby, who painted his hives in psychedelic colors and patterns). Along the way, Mortimer discusses threats to bees (specifically the Varroa mite), hive roles, the science of honey production, and much more.
While Mortimer has a tendency to repeat himself, his information is solid and his writing style is accessible. He provides a look at both the relationship between bees and the environment, as well as the one between bees and beekeepers. Recommended for those with an interest in bees who enjoy a good story.