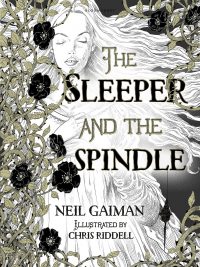 The Sleeper and the Spindle by Neil Gaiman, Illustrated by Chris Riddell
Format: Book
Who its for: Teens
A thrillingly reimagined fairy tale from the truly magical combination of author Neil Gaiman and illustrator Chris Riddell – weaving together a sort-of Snow White and an almost Sleeping Beauty with a thread of dark magic, which will hold readers spellbound from start to finish.
The Sleeper and the Spindle is a up-to-date outlook on female heroism smooshed into the plot of a classic princess double-feature, though you won't find a white knight or Prince Charming in this fairy tale.  Gaiman tells the story of warrior queen who travels to a faraway land armed with a sword and three dwarfs, on a mission to rid the people of a curse and save the princess locked in a tower.   This retelling is just as dark, magical, and twisted as this reader wanted it to be.  Riddell's stunning black, white, and gold illustrations alone are worth a gander.
My only complaint – it's too short.  Find it in the catalog.