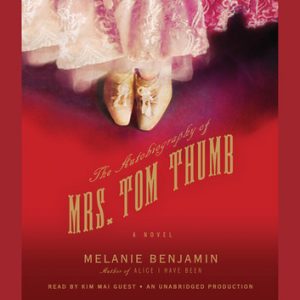 Title: The Autobiography of Mrs. Tom Thumb by Melanie Benjamin
Format: Audiobook, also available in print and e-book
Who's it for: Adults
Ladies and gentlemen, step right up and dive into the circus world of the 1800s through the eyes of Mercy Lavinia Warren Stratton (Bump) who stood only 32 inches tall as a full-grown adult woman.
Born as an average-sized newborn who stopped growing at the age of 10, she was a perfectly formed lady in miniature size. She grew up on a farm in Middleborough, MA. She become a teacher, but realized life called to her in other ways. Looking for a new adventure when who should knock upon the family's door but someone claiming to be her cousin. This cousin offered up a grand opportunity for Miss Lavinia to join his traveling steamship performing show. This type of performing show was not what Lavinia wanted by way of adventure. By a stroke of odd luck, the Civil War interrupted the show and allowed Miss Lavinia to present herself to the greatest showman on earth, P.T. Barnum. Welcomed with open arms into P.T. Barnum's various shows and endeavors, this novel takes on a platonic love story between P.T. Barnum and Lavinia. Lavinia went on to marry one of P.T. Barnum's very best friends, General Tom Thumb, and while she was a loyal wife, he was not her dream husband. Join Lavinia, General Tom Thumb, and P.T. Barnum in an intimate look at their personal and professional lives.
A novel of triumphant and heartbreak that remains painfully beautiful. Anyone who enjoys circus literature or enjoyed watching The Greatest Showman should give this historical fictionalized biography a try. Read or listen through to the author's notes at the end, and learn to accept the humbugs for what they are: entertainment. Check out the audio or print version in our catalog.