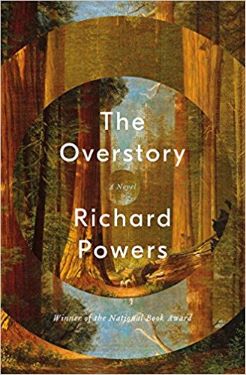 The Overstory by Richard Powers
Format: Book
Who's it for: Adults
"The single best thing you can do for the world?  The problem begins with the word world.  It means two such opposite things.  The real one we cannot see.  The invented one we can't escape."- from The Overstory.
What would you say if I told you that this isn't our planet?
Sure, we built things on it.  Raised our children on it.  Molded it to fit our every conceivable need.  But really, in the grand scheme of things, we are simply recent roommates to the rest of life that has existed for millennia on this planet before we showed up on its doorstep unannounced.  Showed up with bags in our hands and plans for a renovation.
Have you ever wondered why it feels so good to be in nature?  Why so many of us have images on our desktop of trees, water, sun and dirt?  Why so many movies and scenes in popular culture show the ocean, mountains, and forests so prominently?  It's because to be in nature is to be in the realm of truth.  Where there are no lies, no misconceptions, no fake news, no hidden meanings or subtext.  Just truth.  A tree is a tree is a tree.  Our world, on the other hand, the one invented by humans, the one that teaches us all the rules of how we are supposed to act and what we should value, is in the realm of fiction.  It's as invented as the wheel.
The Oversrtory, by Richard Powers, attempts to explain the ideas of truth and fiction from the perspective of trees.  If that seems like a heady concept, then you should strap in for one heck of a profound journey.  At face value, The Overstory is the story of nine geographical separate individuals that find their paths crossing throughout their lives.  What makes it unique is that Powers attempts to tell their stories through the lens of trees, where a human lifetime is a mere afternoon to a tree and one where the most significant of moments happen at a speed too slow for us to even comprehend.  To a tree your story doesn't start with your birth, it starts generation's before you were even conceived, with an ancestor that you've never thought of or even knew existed.  To a tree, the invented world that we live in is nothing short of perplexing.
We use bits of paper to buy food for our mouths.  Adorable.
We think that having (name the last purchase you made on Amazon) is important.  Silly.
We get into arguments about what people we've never met said on the internet.  Downright hilarious.
Although Powers argues that we can never fully escape the invented world, for it is too ingrained into what makes us "us", we can attempt to glimpse the slivers of truth that we experience in nature.  We may never escape it, but trying to envision our day-to-day problems and worries through the perspective of a tree may help us to realize that many of those concerns aren't as important as previously thought.  At its core, The Overstory attempts to answer the question "what would the world look like if we valued all life instead of just the life that looked, and talked and thought like us?"  If this type of deep question sounds like something you would like to explore further, then The Oversrtory may be the book for you.