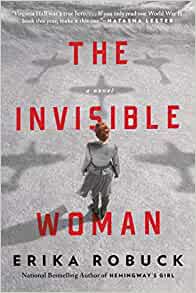 The Invisible Woman by Erika Robuck
Format:  Digital Audiobook
Who it's for:  Adults
This is a historical novel about an American woman named Virginia Hall, and her work as a secret agent during World War II.  Leading up to the war, Hall worked as an embassy secretary and desperately wanted to get into the American Foreign Service.  Not only was it rare for women to be accepted into the AFSA at the time, but rules were in place that forbid hiring people with disabilities as diplomats.  At the age of 27, Hall had accidentally shot herself in the left foot while hunting birds.  Her leg had been amputated below the knee and she wore a wooden prosthesis.
Virginia Hall eventually made her way to Europe as an ambulance driver for France, where she was recruited by the Special Operations Executive (SOE) in England.   She operated mainly out of France, where she was able to arrange contacts, assist intelligence agents, help British airmen who were shot down or had crashed over Europe, and help dozens escape France to neutral Spain and onward back to England.
After learning to become a wireless operator, Hall was contacted by the American Office of Strategic Services (OSS).  She was hired to train resistance groups in France called Maquis, so that they could support the Allied invasion of Normandy on June 6, 1944 with sabotage and guerrilla activities.  The Invisible Woman focuses on Hall's work at this time (disguised as an old woman named Diane), and introduces us to the villagers, farmers, and housewives who risked their lives in support of Allied efforts.
For her efforts in France, Hall was awarded a Distinguished Service Cross in September, 1945, the only one awarded to a civilian woman in World War II.  Robuck brings to life the courage that some of the most obscure people demonstrated in order to defeat the Nazis.