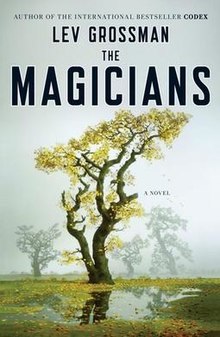 The Magicians by Lev Grossman
Format: Book
Who's it for: Adults and Teens
Do you remember what it felt like to believe, to truly believe from the aching bottom of your heart to the tip of your nose, in the impossible?  When I was a kid the Chronicles of Narnia books lit up my imagination like a Christmas tree.  I was one of those kids that felt the back of every wardrobe, closet and medicine cabinet just to make sure there wasn't a magical world waiting just out of sight.  Over time I stopped checking, and as I grew up I stopped believing as well.  The world, the one I could see around me with my own eyes, was exactly what it seemed to be and I discovered a hard truth: there was no magic door waiting for me.
That feeling of having naive belief only to discover, heartbreakingly, that there never was and never will be a magical world, is what makes Quentin Coldwater's story so special.
The Magicians by Lev Grossman, follows Quentin's journey from brilliant, but also brilliantly distracted, high school student to new enrollee in the Brakebills College for Magical Pedagogy.  He discovers a hidden layer to the world, one that when pulled back reveals the fantastic.  Magic is real.  And if magic is real, what else might be real as well?  This is one of my favorite books of all time, and I would hate to ruin the story by revealing any more than that, but I will say that although Brakebills may be the start of Quentin's journey it is certainly not the end.
Part Harry Potter, part Narnia, but with a realistic and decidedly adult edge, Quentin's story explores the topics of human desire, depression, and the harm of having unchecked power in a narrative that is absolutely enchanting.
Recommended for: fans of realistic fantasy, Harry Potter, The Chronicles of Narnia, and The Magicians T.V. show.