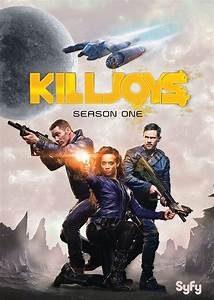 Recommended TV Series
Series Title: Killjoys
by SyFy & Universal Studios
Format: TV Series on DVD
Who it's for: [Teens, Adults,]
"From the producers of Orphan Black and the creator of Lost Girl comes Killjoys. This sci-fi adventure follows a fun-loving, hard living trio of interplanetary bounty hunters (a.k.a. Killjoys) sworn to remain impartial as they chase deadly warrants around the Quad, a system of planets on the brink of revolution. A motley crew that always has each other's back, until a dark secret threatens to tear apart their trio for good. Follow their adventures and discover their secrets with all 10 episodes back-to-back and uninterrupted."  – via SyFy and Universal Studios
I picked this up because a former coworker recommended it.  I was looking for a new Sci-fi series that was like Firefly, Battlestar Galactica, or Eureka.  The DVD cover was quite attractive and intrigued me. Plus it was produced by the SyFy channel. The show has many similar traits to Firefly, Star Wars, and other science fiction entertainment.  I really like space operas with action, adventure, mystery, a lil romance, and fun.  This show has all of those elements yet somehow they put their own unique spin on it.  It will feel familiar to regular fans of Sci-fi but not exactly, the same plot twists, friendships, villains, rebellions, romance, robots, etc. A good thing (or bad depending) is that the show was not produced in the USA. This means it is short; there are only 10 episodes per season.  You don't have to carve out 2 months of your life to binge all four seasons. Since every episode ends with at least one cliffhanger, I would suggest you checkout all 4 seasons on DVD at one time.
(Killjoys television series is inspired by the comic series written by Gerard Way, The true lives of Killjoys. The collected issues 1-6 are available in print format in Calvert County and digital format on hoopla .)
I would recommend this to people who like a bit of magical mystery with their typical episodic adventure space show.