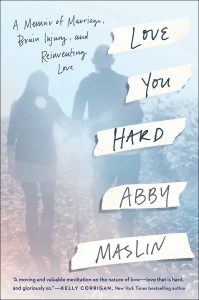 Love You Hard: A Memoir of Marriage, Brain Injury and Reinventing Love by Abby Maslin
Format: Book
Who it's for:  Adults
In August 2012, Abby and TC Maslin lived in the Capitol Hill area of Washington D.C. with their young son, Jack. TC worked as an energy analyst and Abby was a school teacher. TC was attacked while walking home from a Nationals game late at night.  TC was beaten nearly to death by three young men who took his cell phone and debit card.  They left him bleeding and hurt on a sidewalk a few blocks from his home.  When Abby woke up in the night to find out that her husband wasn't home, panic set in.  Hours later Abby found out that her husband had been taken to the hospital but she didn't know if he was alive or dead.
After many days and months of physical rehabilitation, TC did survive, but was unable to walk and talk.  Abby had to take over his complete care, teaching him to read and talk again.  There were no guarantees of his future life after the tragedy.  The two of them had to learn to trust and love each other again.  During their agonizing months both of them had changed.
This is a true story and has connections to St. Mary's County, Maryland. Abby is a good writer and I was especially touched by her prologue that describes when she and TC met for the first time. This account is a raw and inspiring story with an amazing outcome. TC Maslin has an inner strength that helped him to beat the odds of not only surviving but conquering his disabilities. While still re-learning to walk and communicate, TC realized how much Abby did to take care of him, he said, "But you've done everything for me. Do you know that? I love you, honey. I love you so hard."