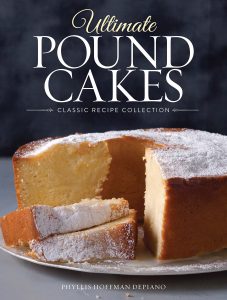 Ultimate Pound Cakes Classic Recipe Collection       by Phyllis Hoffman Depiano
Format: Book
Who it's for:  Adults
The old saying "Never judge a book by its cover" is the exception with this book.  When I came across Ultimate Pound Cakes, which features a delicious looking pound cake on the cover, I had to check it out for myself.  I have not been disappointed.  I was lucky enough to have checked this book out before the corona virus caused the library to temporarily shut down.  Stuck at home for the past several weeks, I have had the time to try two of the recipes featured.
The author begins her book with the history of the pound cake.  Did you know the pound cake dates back to the 18th century?  The cake's name is derived from the fact that it is created using a pound of butter, a pound of sugar, a pound of flour and a pound of eggs.  The intent was to make a cake that would be large enough to feed more than one family.  At that time in history baking ingredients were hard to come by, as some of us have found to be true during the recent pandemic.
Ultimate Pound Cakes is divided into three sections based on the type of pan used for the recipe.  There are recipes for tube pans, bundt pans, loaf pans and mini bundt pans.  Although the two cakes that I made called for a tube pan, I made them both in a bundt pan, which is all that I had available to me.  I was a bit limited by ingredients as well, so I had to choose recipes whose ingredients I already had in my pantry.  I made Grandma's Favorite Pound Cake and Chocolate Pound Cake.  They were both scrumptious and very easy to make.  In fact, all of the recipes looked like they would be easy to make.
There are all kinds of other pound cake recipes in the book, and a corresponding picture for each one as well.  Some of the cakes made my mouth water just looking at their pictures. There is a Cream Cheese-Filled Red Velvet Pound Cake, a Peanut Butter and Honey Pound Cake, a Vanilla Bean Pound Cake with Honey-Orange Drizzle, a Fresh Peach Pound Cake and a Strawberry Shortcake Pound Cake just to name a few.
Add this book to your Library Wishlist.  You will not be disappointed.  Find it in our catalog.
I am always interested in learning about the authors of books that I love, just to see where they get their inspiration.  If you are interested, you can take a look at Phyllis Hoffman DePiano's website Ribbon In My Journal, where several of the author's recipes are listed for free.