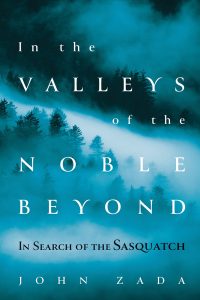 In the Valleys of the Noble Beyond: In Search of the Sasquatch by John Zada
Format: Book
Who it's for: Adults
Investigative journalist John Zada confesses to a lifelong fascination with the legend of Bigfoot.
To satisfy his curiosity, and his appetite for adventure, he visits the remote Great Bear Rainforest region of Canada's Pacific coast, where indigenous people have been telling stories about the Sasquatch for centuries.
While recording the stories of these First Nations, and other, communities, he also records the plight of the forest itself. Activists are fighting to conserve the vast wilderness, and animals that make their homes there, from oil companies, and hunters.
Zada's thoughtful descriptions of the forest and its inhabitants will make you want to get lost in the woods, and his search for the Sasquatch leads him to a philosophical and psychological exploration of why we believe, or want to believe, in anything.
If you like books about travel, the environment, folklore, or belief systems, I suggest you give this a try. I found it to be a truly interesting read I continue to think about long after turning the last page.