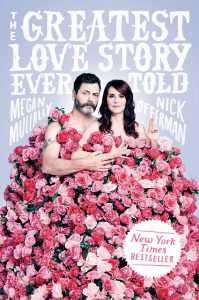 The Greatest Love Story Ever Told: An Oral History by Megan Mullally and Nick Offerman
Format: Audiobook, Book
Who it's for: Adults
You may know Megan Mullally and Nick Offerman from their roles on Will and Grace and Parks and Recreation, but did you know they've been married for 18 years? In The Greatest Love Story Ever Told, the pair covers any and every subject, from books to puzzles to fashion to dating to Hollywood. They talk about their very different childhoods and the paths that led them to acting and to each other. These are two funny people, so there are lots of laugh out loud moments and improvisations. 
This is a book to be listened to. The print version just can't replicate the quirky, quick conversation between this celebrity couple. There are impromptu jokes and asides and the two finish each other's sentences frequently. The print book does contain a selection of photos of the two which you can't see with the audio version, but Mullally and Offerman do an excellent job of describing these photos to their listeners.
If you've enjoyed Nick Offerman's other books, or other memoirs from Amy Poehler, Tina Fey, or Mindy Kaling, you might enjoy The Greatest Love Story Ever Told. Just make sure to get the audio version!