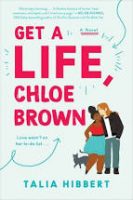 Get a Life, Chloe Brown by Talia Hibbert
Format: Book
Who it's for:  Adults
Chloe Brown lives with chronic pain, an invisible disease that people don't understand.  After almost getting hit by a car, she decides she needs to cross some things off her bucket list and live her best life.  She starts by moving out of her parents' house and into an apartment.  She soon finds that she can cross a few other things off her list by getting to know her new neighbor and handyman, Red.
Red is tattooed, drives a motorcycle and is too handsome for his own good.  Chloe enjoys spying on him while he paints in his apartment.  This crosses off "do something bad" from her bucket list.  Soon Chloe and Red become friends and he begins helping her rebel a little.  She learns that there is a lot more to this bad boy than she imagined.  And, he learns to understand what it is like to be in pain constantly.
This was a cute romance that was surprisingly meaningful.  Chloe and Red are both living with their own issues and find a way to overcome them and in the process find romance.  If you enjoy reading authors Helen Hoang, Katherine Center and Christina Lauren, you will like this author too!