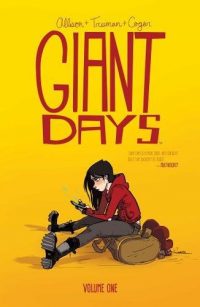 Giant Days by John Allison
Art by: Max Sarin, Lissa Treiman, Liz Flemming, Jim Campbell, and Julia Madrigal
Format: eBook, Graphic Novel
Who's it for?: Teens and Young Adults
This is a super fun slice-of-life graphic novel series about the shenanigans of UK college students. It's funny, charming, and features strong female relationships between wildly dissimilar, but believable characters. In the first volume: Esther, gorgeous and goth, is a chaos magnet who is dealing with the heartache of a recent breakup. Daisy, homeschooled, wicked smart, and incredibly kind, does a bit of self-discovery. Susan, fiercely independent and kind of cranky, comes face-to-face with her hometown nemesis on campus. Throughout the 14-volume series, readers experience the wins and woes of university, from sickness to housing drama, from part-time jobs to exams. The art is adorable and the plot stays relatable, but light-hearted at the same time. I definitely recommend. Find it on Hoopla!