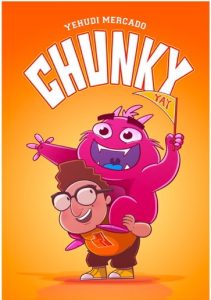 Chunky by Yehudi Mercado
Format: Graphic Novel
Who it's for: Kids
Young Hudi is overweight. He's been plagued by health issues, and his family's doctor encourages him to lose some weight. His parents decide he should try out for a sport, so he'll get more exercise. Hudi would rather tell jokes or draw, but his parents insist, so he chooses baseball. After all, Babe Ruth was overweight, and he was one of the greats! But he's still really nervous about it. In pops Chunky to the rescue! Chunky is a red furry monster, who introduces himself as Hudi's imaginary mascot. He will always be there to cheer Hudi on, as long as he's trying his best. He just wants Hudi to be happy!
It turns out Hudi is going to need a lot of cheering on, as he moves from baseball, to soccer, to swimming, to tennis, to football, leaving a string of minor disasters in his wake. Hudi doesn't seem to be cut out for sports, and struggles to make friends. In addition, his family is going through some stuff, as his dad has lost his job, and they don't have a lot of money for Hudi's sister's bat mitzvah. Chunky has his work cut out for him, helping Hudi to be himself, and make good choices.
This fun, colorful, semi-autobiographical graphic novel should appeal to fans of books like Smile by Raina Telgemeier, New Kid by Jerry Craft, or El Deafo by Cece Bell. It handles some tough issues, like body image, and bullying, in a light-hearted way, and any reader will wish they had their own Chunky to believe in them when they really need it.