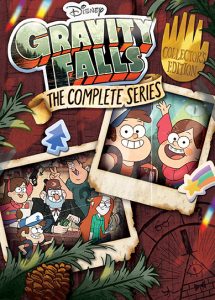 Gravity Falls
Format: TV series on DVD
Who it's for: Kids, Teens, Adults, Everyone
Twins Dipper and Mabel Pines have been sent to Gravity Falls, Oregon to spend the summer with their Great Uncle, or Grunkle, Stan, who runs the Mystery Shack, a tourist trap that peddles overpriced merchandise to anyone interested in Bigfoot, flying saucers, unicorns, and the like. But very soon after their arrival Dipper discovers a journal that leads him to believe the mythical things in Grunkle Stan's shop could be based in reality, and Gravity Falls might be a hotbed of paranormal activity. It turns out there really are zombies, minotaurs, real live gnomes, and a number of other oddities in the woods surrounding the Mystery Shack, and Grunkle Stan may not be as oblivious to it all as he lets on!
This show is truly enjoyable for all ages. It's got delightful humor for the kids and delicious mysteries for the grown-ups. The twins are the heart of the show: Dipper is slightly neurotic, Mabel is a bottomless well of effervescence, and they have a sweet, supportive sibling relationship. The cast includes the voices of Kristen Schaal, T.J. Miller, J.K. Simmons, Nathan Fillion, and Nick Offerman. It's basically The X-Files meets Twin Peaks meets The Simpsons on the Disney channel and I am here for it. Are you? Find Gravity Falls in our catalog!