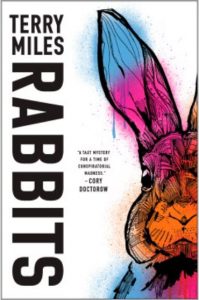 Rabbits by Terry Miles
Format: Book
Who it's for: Adults
There's a game being played – an ancient and dangerous game – but the vast majority of us have no idea it exists. If you've ever noticed a strange coincidence – you check your clock twice in a day, and both times it's 4:44 – or a discrepancy – you see a famous work of art in a museum, but were sure the house in the painting had 2 windows, not 3 – you probably experienced a brief moment of déjà vu, maybe the Mandela effect, then moved on with your life. People who obsess over these connections, and investigate these conspiracies, are playing the game, which is called Rabbits.
K is one of these people. In fact, K's a bit of an expert on Rabbits, which is played in numbered iterations. K's approached by mysterious billionaire Alan Scarpio, rumored winner of the sixth iteration. Scarpio tells K there's a problem with the game, they need to fix it, and the world as we know it is at stake if they can't. Within the next few days Scarpio is reported missing, and K is thrust deep into the latest iteration of the increasingly deadly game of Rabbits. Follow the clues to save the world with K in this unique and fast-paced thriller.