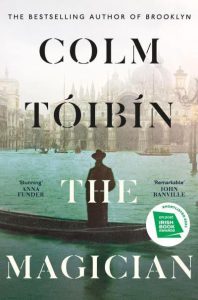 Title: The Magician by Colm Toíbín
Format: Novel
Audience: Adults
The Magician is a sweeping novel of unrequited love and exile, war and family, and a conflict between one's own selfhood and deep, hidden emotions. A blend of personal struggles with global events, this is a fictional account of the German novelist, Thomas Mann, and his fascinating life, told by one of the greatest living writers of our time, Colm Toíbín.
Mann, a supporter of Germany's ambitions in the year of 1914, soon finds his vision of a county on the eve of becoming a progressive nation built upon a platform of social reform divulge into disillusionment. A man who found himself on the wrong side of history in the First World War in his encouragement of a better, more expansive Germany, only to then witness the devolution of his nation in the hands of the Nazis, Mann was constantly at war with himself as he fought to not only understand the world around him, but who he was as well. Mann, who would write some of Europe's greatest pieces of literature, was forever embattled with acclaim and contradiction, as he surrounded himself with a life that portrayed something entirely different than who he truly was.
Toíbín has created a breathtaking recounting of Thomas Mann's life – a Nobel Prize and Goethe Prize winning author – in which should be viewed as a celebration of what a novel is able to accomplish and express.