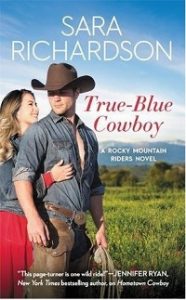 True-Blue Cowboy by Sara Richardson
Format: Book
Who it's for: Adults
Set against the mountains of Topaz Falls, Colorado, lawyer turned farmer Everly finds a second chance at love with her bull-rider beau Mateo. The two seem an unlikely pair at first. Everly is living a quiet life with her goats Matilda, Honey, Wormwood, and Trunchbull. And, Mateo is the star of the show as one of Raine's Renegades. But, a blind date that ends with a kiss leaves them both yearning for and fearing more. Things take an interesting turn after Mateo purchases the farm that Everly is leasing, and he becomes her landlord and, later, roommate. In true romance novel style, Mateo is Everly's protector and saves her no less than three times, and Everly adheres to the typical role of de facto therapist.
Everly and Mateo are a charming couple. Their love story is a cozy, lighthearted read filled with everything from a duck named Walter and grumpy old retirees to mountain lions and drug cartels. And, the book ends with a life lesson about the importance of having people in our lives to make it all worthwhile. Find it in the catalog.