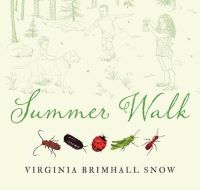 Title: Summer Walk by Virginia Brimhall Snow
Format: Book
Who It's For: Kids (And Adults)
Are you looking for an engaging read that not only sparks your child's imagination but gets their body moving?   With these times of social distancing and isolation it can be difficult to find safe, fun ways for our littles, and no so littles, to connect with the outside world.
In Summer Walk, we have a rhyming tale of a summer adventure shared between Grammy and her grandkids.  The story walks us along as they discover and identify 24 insects.  The detailed pencil sketches of this family unit form an intricate backdrop for the bold and colorful featured insects.  Following the story, there are fun insect facts, as well as, a nature themed craft and activity you and your child can do together.  They become the perfect learning extensions when you get back from your own Summer walk.
I love this book not only because it is a doorway to the outdoors which seamlessly melds learning with doing, but because it reminds me of my own children and the time they spent making memories with their Grammy.
Find it in the catalog , check it out and begin making your own summer memories today!