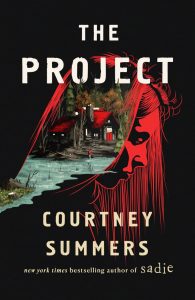 The Project by Courtney Summers
Format: Book, eBook
Who it's for: Teens, Adults
Years ago, Lo's sister Bea joined "The Unity Project." The Project, as it's casually known, is NOT A CULT according to its charismatic leader, Lev Warren, and his followers. They are a service organization, with centers for enrichment dotting the American north east. Warren gives a public sermon once a year, and has been known to predict world events, leading the faithful to believe the access to a higher power he claims to have is real. But Lo isn't buying it.
When an opportunity arises for her to investigate The Project, she's determined to unmask Warren as the charlatan she's sure he is, and free her sister from his manipulations. But when she's embraced by him and his movement, her doubt falters, and her defenses begin to crack. Does Warren actually perform miracles? Does The Project truly offer redemption? Or is it all just a dangerous façade?
The story is told through chapters alternating between the sisters, which can be jarring at first, but pays off, as it sets up a suspenseful and satisfying narrative journey, with twists and turns you won't expect. The book features scenes of abuse, which may be troubling to some. Courtney Summers also wrote the Edgar and Audie award winning 2018 novel Sadie. Both books are at times unpleasant, but totally worthwhile explorations of family, truth, and identity.