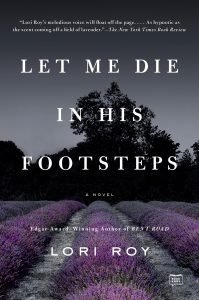 Let Me Die In His Footsteps by Lori Roy
Format: eBook, digital audiobook
Who it's for: Adults
Would Annie Halloran go to the well?  In 1952, any fifteen and a half year girl who peered into a well that night would see the face of the man she'd marry.  Ryce Fulkerson rolled up on his rickety bike.  "Annie, will you come to the well at my house?"  "Maybe I'll go to the well at the Baines'.  It's closer."  Yet nobody went near the Baines' farm.  Old Mrs. Baines might wait with a shotgun.  All of the Baines boys had left town except for one.  That was Carl Joseph.  And he was hung, dead, and buried under the crossroads in town.
Waiting until nearly midnight, Annie crept out of bed.  "Annie?  Please take me," begged Caroline, her sister.  "No, your turn's next year."  Annie left alone.  In her family's lavender field, Annie struck a match and lit her candle.  Annie shone her small flame back towards the house.  "Ryce?"  Inadvertently, she tilted the candle.  Hot wax gutted the flame.  Wincing, Annie peered over the stone wall.  The Baines' well was near.  "Do you want this?"  Caroline shone a flashlight.  Cursing, Annie retreated to the family barn.  At the entrance lay cigarette butts; one glowed orange.  Annie shuffled her foot to put it out.  "It's almost time," said Caroline, advancing up the rock fence.  "Don't wake Mrs. Baines!"  They both peered down the well.  "Annie!  I see my future husband!"  Annie didn't see anyone, except as they left, she saw a body sticking out from under a nearby bush.
Annie had blonde hair, black eyes, and a tall, slender build.  She looked nothing like Caroline or their mother Sarah.  Many said Annie resembled her mother's sister, Juna, who had left town many years ago.  Would Aunt Juna return? Why did the Hallorans avoid the Baines?  Why was Joseph Carl hung?  And who was smoking by the barn that night?  Told by Sarah and Juna in 1936 as well as Annie in 1952, Let Me Die in His Footsteps is a suspenseful tale of traditions, secrets, and self-identification.