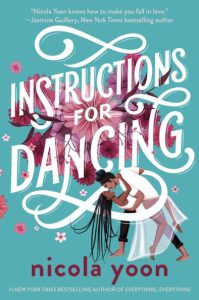 Instructions for Dancing by Nicola Yoon
Format: Book
Who it's for: Teens
This was a cute, quick, and bittersweet read. Evie loved reading romance books, but that's all in the past now that her parents are divorced. She no longer believes in love. One day she gets the ability to see people's love stories once she sees them kiss and how all relationships all eventually end. In her quest to find answers she ends up at a dance studio and partnering with a boy named X.
Evie is more cautious, while X is much more free-spirited. They had lots of cute moments together as they got to know each other from dance practice and hanging out. I loved their opposite personalities and how they worked so well together.
The ending caught me off guard the most, but I'm not mad at it. Just bittersweet. Check out Instructions for Dancing in our catalog.