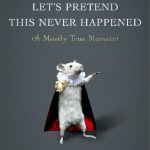 Let's Pretend This Never Happened: A Mostly True Memoir by Jenny Lawson
Format: Audiobook, Book
Who it's for: Adults
Do you need a good laugh?  Do you sometimes feel like you are the only weird person around you?  Do you struggle with mental illness and want to read about others that do as well?  Then this book is for you.  Jenny Lawson, AKA The Bloggess – www.thebloggess.com, writes about her childhood in rural Texas, growing up with a taxidermist father, and meeting her husband Victor, having her daughter, her struggles with anxiety and depression, and a squirrel hand puppet.  It is often bizarre, hilarious and sad all at the same time.  Sometimes you wonder if this could possibly be a true account and then you see the pictures.  Yes, it did happen.  And yes, it is very weird.  And yes, you are completely fascinated and can't stop reading about her life so now you are following her blog and Instagram so that you can see that you are not the only one that is tad bit crazy.
If you are easily grossed out or easily offended by profanity, this is not the book for you.
The audio is read by the author.  I listened to the book, but then had to go back and look at the book to see the pictures she includes.