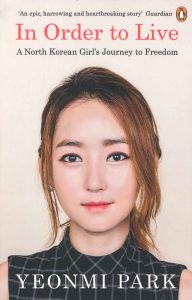 In Order to Live by Yeonmi Park with Maryanne Vollers
Format: Book and Audio Book
Who It's for: Adults, Young Adults
Life in North Korea was brutal.  People in North Korea under the the country's dictator Kim Jong Il endured a regime that was repressive and subjects its citizens to rigid controls.
Yeonmi Park was born in Hyesan, North Korea in 1993. Her family was a close-knit family where her father took the risk of trading on the black market in order to have enough to provide for them. Eventually he was imprisoned and branded as a criminal and sent to a prison camp. In order to escape her famine struck childhood with fear that her family would most likely die, she and her mother fled and were smuggled across the border into China where they became victims of human trafficker's and were sold into slavery. She was thirteen years old.
This is her story about her escape from North Korea and the devastating details and horrors she endured both physically and psychologically before finally making it to South Korea and freedom.
Yeonmi Park's inspiring memoir is a remarkable and horrific personal account of her journey, while fleeing a country whose inhabitants live in starvation, hardships and suffering. Today she is a human rights activist and author who is determined to bring attention to the oppression in her home country.
Find In Order to Live in the catalog!