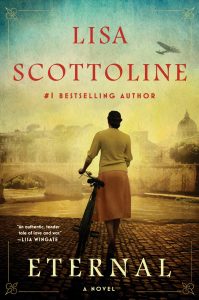 Eternal  by Lisa Scottoline
Format: Full cast digital audiobook
Who it's for: Adults
Author Lisa Scottoline is best known for writing legal thrillers. Eternal is Scottoline's first historical novel, and it is just as good as her thrillers.  The story is based on true events that took place in Rome, Italy during World War II.  In 1937, Italians in Rome never believed that they would be touched by Hitler and his unnerving rules and laws.  But when Mussolini aligned the Fascist party with Hitler's Nazis, terrible things began to tear their beautiful city, and the people within it, apart.
Scottoline has woven the true account of Rome's fall to the Germans into the lives of high schoolers, Elisabetta, Marco, and Sandro.  The three of them have grown up as best friends.  It seems as if overnight Rome is thrust into chaos and confusion.  The families of Marco, Elisabetta, and Sandro are caught up as casualties.
Marco lands a job working for the Fascist government, supporting what his family raised him to believe in.  Sandro and his family, always loyal to Fascist Mussolini, are shockingly moved to the Jewish ghetto and lose everything.  Elisabetta is caught struggling to support herself and at odds with the love that she feels for Marco and Sandro.  As World War II rages on, its consequences destroy the lives and dreams of these three friends and their families.
Scottoline does a wonderful job of revealing the devastation of Rome at Mussolini's hands and expressing how love, friendship, faith, and family prevail enabling people to survive terror and hardship, and eventually begin to heal.  Fans of WWII historical fiction will appreciate Scottoline's account of the effects WWII had on Italy.