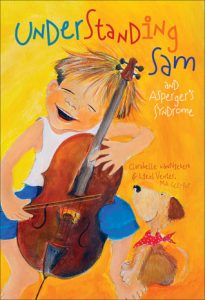 Understanding Sam and Asperger Syndrome by Clarabelle van Niekerk & Liezl Venter, MA CCC-SLP
Format: Book
Who it's for: Children ages 5-7
When kids start school they will be encountering all sorts of different people and new situations.  Books like this one are great conversation starters for you and your child to talk through how you may best respect and appreciate a new friend who happens to be on the autism spectrum.
In this story, you'll meet Sam who loves to put puzzles together and to play the cello but who also doesn't like the feel of his new coat and sometimes can't stop crying when he's frustrated. After Sam and his dog leave home one night to walk to the fair alone, his family and teachers discover that Sam has Asperger Syndrome.  Once everyone understands what is going on they are able to start making things better for everybody.
At the end of the book there are 10 Helpful Tips from the author, who is a certified specialist in autism spectrum disorders, that offer practical advice in simple to understand language.