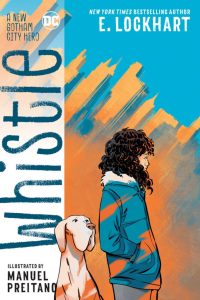 Whistle: A New Gotham City Hero by E. Lockhart and Manuel Preitano
Format: Graphic Novel
Who it's for: Teens
Life is pretty stressful for Willow Zimmerman. She has to balance high school with her budding interest in activism, a job at the local dog shelter, a crush on the new guy who just moved from Lagos, and caring for her mom who has cancer. When an old family friend reaches out to her with an opportunity to make a lot of money running elegant and elaborate poker games for him and his friends, she can't refuse. That money will fund a lot of cancer treatments for her mom. But the demands of the position cause her neglect her studies, activism, canine friends, and new crush, while at the same time drawing the unwanted attention of a supervillain who has an axe to grind with her boss.
One night she, and a particularly loyal stray Great Dane named Lebowitz, are attacked by Killer Croc. When she awakens in a hospital days later she has a wicked scar across her face… and superpowers. Apparently Willow and Lebowitz became connected during the attack and she now possesses several canine traits, like super hearing, super smell, the ability to communicate with dogs, and the temptation to chase tennis balls. Okay, that last one isn't that helpful, but when she uses her powers to uncover a plot by Poison Ivy and The Riddler to destroy her beloved neighborhood, Willow and Lebowitz become vigilante heroes Whistle and The Hound.
This graphic novel for teens is bound to entertain fans of DC comics, the Ms. Marvel series, Spider-Man movies, and E. Lockhart's YA novels.