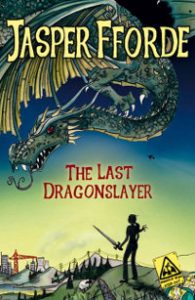 The Last Dragonslayer by Jasper Fforde
Format: Book
Who it's for: Young Adults, Adults
Jennifer Strange is acting manager of Kazam, an employment agency for sorcerers. Nearly 16 and a foundling, Jennifer spends her days arranging pizza delivery via magic carpet, overseeing rewiring of homes without ripping out walls, and completing the required paperwork for every bit of magic the sorcerers perform, intentional or not. Her Quarkbeast, a terrifying, yet relatively placid beast, tags along for these adventures. Magic has been fading for years, but recently, some of the sorcerers have noticed a surge in their power. And pre-cogs (wizards who see versions of the future) begin to have visions of the death of the last dragon at the hands of the Dragonslayer. But who is the Dragonslayer and why does the dragon have to die?

The Last Dragonslayer is the first of a four-part series, with the final installment set for release in the US in May of 2022. For fans of Douglas Adams, Terry Pratchett's The Wee Free Men, and Eoin Colfer's Artemis Fowl series.