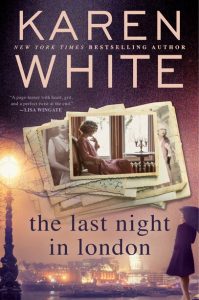 The Last Night in London by Karen White
Format: Book
Who it's for: Adults
Journalist Maddie Warner didn't know. She didn't know how a woman's account of life in wartime London could speak to her today.

Maddie flew to England to interview and photograph "Precious" Dubose and her beautiful collection of vintage fashionwear. Maddie didn't anticipate running into Colin, the man she dated, liked, then avoided in college.

Ninety-nine year old Precious Dubose still had the grace of a model, yet she battled with her health. Between bouts of rest, Precious described her friendship and modeling career with roommate Eva in 1939, in the midst of glittering party life and escalating political turmoil.  Through her story, Precious introduced Maddie to tall and brave Graham St. John, yet dangerous, and alluring Alex and their roles in the war and in Precious and Eva's lives.  Like Maddie, who grieved her mother, Precious seemed to be exude a private sorrow.  Was this why Precious clung to life to finish her interview with Maddie?  Along the way, Colin and Maddie began to search for lost people from the past and found some personal answers along the way.
I was immersed in this tale of life 50 years apart yet with common themes.  Karen White's description of life in 1939 felt so authentic.  I was driven to find out what happened to Precious and Eva and and their circle of loved ones.  Yet when the author described Maddie and Colin in the present, that seemed real too.  The struggles of the characters was relatable.  While the romance between Maddie and Colin seemed inevitable, there was a twist conclusion to the story too.