Recommended Series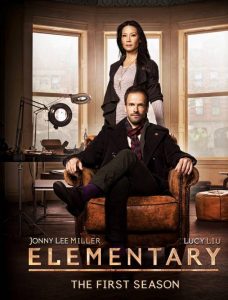 Series Title: Elementary by CBS Television Studios
First Book: Elementary Season One
Who it's for: [Teens, Adults,]
"Sherlock Holmes (Jonny Lee Miller) is a recovering addict who meets Joan Watson (Lucy Lui) as his 'sober companion'. Initially their relationship is strictly professional, and somewhat frosty, but they grow to understand and work with one another, eventually forming a friendship and partnership. Together they assist Captain Gregson and Detective Bell of the NYPD, where Holmes' observational abilities and deductive talent unravel a series of complicated cases. Alongside his police work, Sherlock struggles with a past he left behind in London involving an ex-girlfriend Irene Adler, a 'nemesis' in Moriarty, and an absent father."– IMDb
While I as waiting for the BBC's Sherlock to release some more mini movies, I was told about this show. The concept intrigued me- recovering addict, NYC, and Dr. Watson as a woman. In addition, I liked the lead actors from their previous work.
Elementary did not disappoint. The episodes were the typical one-hour mystery murder show. Even though they were not buddy-buddy and there was absolutely no sexual tension between Sherlock and Watson, I really liked their comradery. They also had great comradery with the police Captain Greggson, played by veteran actor Aidan Quinn, and their assigned police liaison, Detective Marcus Bell.
I would recommend this to people who like episodic buddy-cop-mystery shows with real backstories and character arcs that run throughout the seasons.
Click to Request Season 1-6 on DVD!
P.S. Apparently, Season 7 started on May 23, 2019.  I cannot vouch for it. I thought Season 6 ended the series pretty well.