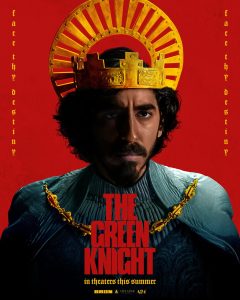 The Green Knight
Format: DVD, Bluray
Who it's for: Adults
The Green Knight is an adaptation of the Arthurian legend of Sir Gawain. At a Camelot Christmas feast, Sir Gawain, nephew of King Arthur, accepts a challenge from a mysterious visitor. The Green Knight, portrayed in the movie as a kind of half man/half tree monster, wants to know which brave knight of the Round Table will play a game with him, and Gawain, desperate to make a name for himself, volunteers. The game is this: The Green Knight offers up his axe for Gawain to strike him with. Any strike he makes will be returned a year hence, when Gawain brings the axe to him at the Green Chapel. Gawain swiftly decapitates him. No worries about retaliation now, right? Wrong, as the Green Knight picks up his own head, and rides off laughing. To say that Gawain is about to have a long year is an understatement.
Gawain's journey to the Green Chapel is as fraught with peril as what presumably awaits him there. Along the way to fulfill his destiny he must confront thieves, ghosts, giants, a talking fox, a mysterious lord and lady, and his own demons. This is NOT a fast-paced action film. This a philosophical slow burn, a visually stimulating interpretation of the 14th century chivalric poem, about man's search for meaning and what makes a true hero, masterfully directed by David Lowery, featuring amazing performances by the cast lead by a soulful Dev Patel as Sir Gawain. If you would like to see something wonderful and strange, check out The Green Knight.