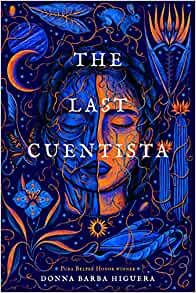 The Last Cuentista by Donna Barba Higuera
Format: Book
Who it's for: Kids, Tweens, Teens
Halley's Comet is on a collision course with Earth. Petra Peña, an aspiring storyteller, does not want to leave her abuelita behind, but she and her family are among the select few who have been chosen to take to the stars.  Petra, her parents, and her little brother will spend the next 380 years in stasis learning everything they need to know to survive on their new planet. They will be humanity's last hope. When Petra is awakened from stasis, however, she finds that her ship has been taken over by the Collective. They have reprogrammed everyone and erased all memories of Earth.  Petra is the only one who still remembers her home world, her family, and all of their cuentos.  She must use her stories of the past in an attempt to secure mankind's future.
The Last Cuentista was just selected as the winner of the John Newbery Medal as well as the Pura Belpré Award. It was one of TIME's Best Books of the Year and the Wall Street Journal's Best of the Year, among others. I understand why. This book was full of storytelling magic. Despite some unexpected dark twists and turns that were a bit shocking, this was a beautifully told story. It combines science fiction, Mexican folklore, and a dystopian future. It is definitely one to add to your reading list!
Find The Last Cuentista in our catalog