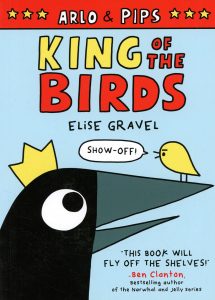 Arlo & Pips: King of the Birds by Elise Gravel
Format: Book
Who's it for: Kids
Arlo is a bird, and not just any bird- he's a crow! And as Arlo loves to explain, a crow is the King of the Birds! Arlo can't wait to tell readers, and his tiny new songbird friend Pips, all about how amazing a crow can be. Arlo is smart! Arlo can imitate almost any sound! Arlo has one of the biggest brains of all birds! Arlo has beautiful glossy black feathers! Arlo can count to 6, remember up to 4 hiding places, play dead, and play tricks on other birds! Arlo knows EVERYTHING! Or does he? It turns out that Arlo is new to living in the city, and maybe little Pips knows some things about humans and city life that Arlo really needs to learn. Will Arlo learn a little humility along the way? …probably not. But he might just learn to be a good friend. This early reader is the 2020 Maryland Blue Crab Young Reader Award winner for Beginning Fiction.
Find it (and other Arlo & Pips books) in the catalog!