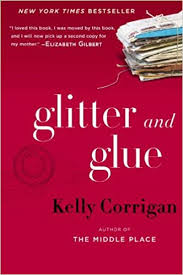 Glitter and Glue by Kelly Corrigan
Format: Book
Who It's For: Adults
After graduating from college and working for a year, Kelly Corrigan and a good friend decided to set out on the adventure of a lifetime.  Everything was great until they began to run out of money in Australia.  Instead of asking their parents to wire them money, Kelly and her friend decided to get jobs.
Kelly took a job as a live-in nanny for the Tanner family.  The mother of the family had just passed away after battling cancer.  Kelly was responsible for taking the children to school, doing their laundry, cooking their meals, taking care of them when they returned home, cleaning up after them, and getting them ready for bed.
Glitter and Glue is a memoir in which Kelly examines her relationship with her mother while being the substitute mother for the Tanner children.  The book is heartwarming.  Kelly has a style of writing that will leave you laughing and sometimes crying.  It will leave you thinking of your relationship with your own mother and reflecting on what it means for one parent to be the "glitter" and one parent to be the "glue".  This is a book that you won't be able to put down.