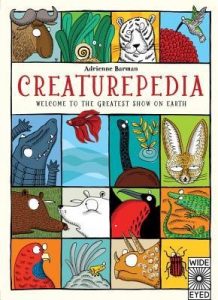 Creaturepedia: Welcome to the Greatest Show on Earth by Adrienne Barman
Format:  Book
Who it's for:  Children
This delightful children's book is recommended for children ages 5-8 or kindergarten-3rd grade.  The clever cover illustration immediately draws one in to the fun and knowledge waiting inside.  This book covers more than 600 creatures of all kinds—animals, insects, birds, sea creatures, reptiles and even vanished species and dinosaurs.  These wonkey-eyed critters have such intriguing expressions on their faces—surprised, curious, sleepy, fierce, loving, sad, mean, bored, flirtatious, suspicious, intelligent, silly, cunning and more.  Some appear to be looking at the camera when the flash went off.  The eyes are everything.  The creatures are listed in categories such as big-eared, vanished, camouflaged, striped, show-offs, spotted and other categories.  The facts of each one are brief and can lead to interesting questions that beg for more information.  This book is beautifully illustrated by the author, Adrienne Barman.