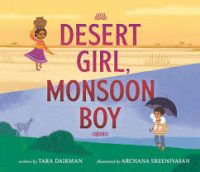 Desert Girl, Monsoon Boy by Tara Dairman, illustrated by Archana Sreenivasan
Format: Book
Who Its For: Kids
At first glance their lives couldn't be more different. The nomad girl in the blistering dry desert fetches water and tends the camels, taking shelter from the howling sandstorms in her tent. The village boy in the green fields goes to school and tends the goats. He runs home as the monsoon rains begin, helping his family to seal the door and lift their belongings out of rising floodwaters. But as severe weather takes hold, as one family and their animals need water and the other needs dry safe ground, both families journey to the mountains, where they meet and celebrate their safety.
An eye-opening story of two branches of the Rabari people in India; the traditional nomadic herders of the desert and those settled in permanent villages who raise goats. Both groups struggle with weather extremes and climate change which threaten their livelihoods and lives . Author Archana Sreenivasan took special care to accurately portray the cultural distinctions between these two clans and her renderings are just beautiful. I love the illustrations in this story, especially the faces!