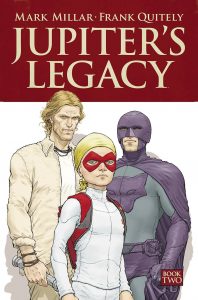 Jupiter's Legacy by Mark Millar
Format: Book, eBook, Graphic Novel
Who it's for: Adults
I think it's safe to say we've all struggled from time to time with comparisons to our family. Maybe you have a super successful family, with high expectations of you, that you're afraid you'll never live up to, much less surpass. Maybe you have a family who was not present when you were growing up, and you wonder for the rest of your life who they were, or whether they loved you. Maybe your family is overbearing, and you just want out from under their shadow. Maybe your family has done something terrible, and you would do anything to not follow in their footsteps. And we're just ordinary people. What if your family had literal super powers?
That is the question raised by the Jupiter's Legacy series (recently adapted by Netflix) by Mark Millar (author of Marvel's Civil War, Old Man Logan, and many more amazing comics). In the wake of the stock market crash of 1929, Sheldon Sampson follows mysterious visions leading him and his friends to an island in the middle of nowhere, where they receive powers such as flight, super strength, and psychic abilities. For the next few decades The Union, as this group comes to call themselves, enjoy a golden age of celebrity and civil service. But years later, their children are vapid and rebellious, and the country has changed so drastically from the one they swore to protect. What is the role of a Superhero in this modern age, and is this new generation capable of taking on that mantle?
This is not your average Superhero story. Check it out if you like drama, mystery, action, complicated relationships, and commentary on American culture.