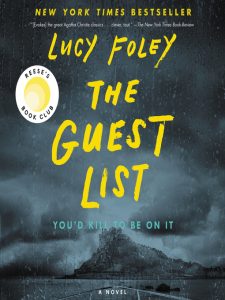 The Guest List by Lucy Foley
Format: Book
Who's it for: Adults
On a rocky remote island off the coast of Ireland, guest gather at the most talked about wedding of the year. A top magazine editor and a TV heartthrob are going to be married, and everyone wants to attend the high profile and glamourous wedding. As the guests arrive from the mainland so do the secrets and the scandals. The perfect couple may not be as perfect as they appear and one by one the guests begin to reveal their troubling pasts with the bride and groom to be.
On a stormy night, as the guests toast with champagne, the power goes out and the guests are left in the dark. In the distance, a scream can be heard and a body is discovered. Suddenly, every guest has become a suspect, and it's up to the reader to fit the clues together to find out who the killer is and why?
Reminiscent of an Agatha Christie novel, The Guest List is a true Whodunnit. Clues are given, secrets disclosed and the reader begins guessing who the killer is and what was the motive. The Guest List is a gripping and fun read with interesting characters against a dramatic, almost sinister, island backdrop. The Guest List is an irresistible and binge worthy suspense, just waiting to be checked out!  Find The Guest List in the catalog.