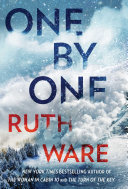 Title: One by One by Ruth Ware
Format: Book or eBook
Who's It For: Adults
Liz wasn't sure of what to make of a snow weekend retreat with ex-coworkers from "Snoop," creators of an app to follow the music tastes of celebrities. Why would they include her? She wasn't one of the bright and beautiful movers and shakers. Could it be because she was a shareholder? What did they want from her?

Erin and Danny were preparing the French Alps chalet for the scheduled Snoop guests. Erin cleaned while Danny cooked. Even though her brother and boyfriend were killed in an avalanche, Erin had to return to work at the chalet. She had to face her fears.

In spite of awkward clashes and an unexpected business proposition among the Snoop retreaters, Liz and Erin each manage with their own personal challenges. Yet when members of the party begin disappearing one by one after an avalanche, who could be responsible?
Sounds intriguing, right?  Read all about it here.